Sister Judy goes on a journey of discovery
As a bit of a book worming nun I like to delve into the history of our order to shed light on our practice as Sisters. This also gives me an excuse to escape the writing hall here in Florizel Street. Sister Matic has me cooped up illuminating endless copies of the Polari Bible using parchment and the glitter coated feathers I 'borrow' from the drag queens of Anal Treat. (Sorry girls!)< After a moment of inspiration to use Tom of Finland style in a leather-bound copy for the fetish community, our Sister Matic saw fit to reward me with a tagged trip to the British Library…
I arrived in London after hitching a lift on the Glasgow sleeper (to the next traveller in cabin 101 – – – get some Derbac M, no, really, theres a reason it's kept empty). Invigorated but not refreshed I trolled to the library with a letter of introduction from the convent.
I have to say the exterior of the British Library betrays the wonders that lie behind its brutalist veil. Never judge a book by its cover. Once inside you are exposed to a stunning labyrinth of treasures; think tasteful sauna full of nooks but with the lighting on. This nun felt very much at home.
On finding my way to the designated area, the search requests I'd made were ready and waiting to view. Even though the package was small, my heart raced to touch it, stroking it gently, I found a quiet corner to unpack its contents. I carefully undid the envelope so lovingly put together for me by the archivists. I ate a chocolate as I did so.
The contents was exactly as requested: an original copy of the famous "Play Fair" sexual health leaflet produced by the San Francisco House under the Watchful eye of Sisters Florence Nightmare (Bobbi Campbell) and Roz Erection (Baruch Golden). Both were registered nurses in their secular lives and put their collective knowledge of a new mystery disease to good use.
With a medical profession unsure of what they were dealing with and a Republican President in bed with Christian family values, little was done in the way of health promotion. The Sisters attempted to help fill this gap as part of a wider community response.
When the leaflet went to press there was no term for the condition we now know as HIV/AIDS. Yet names and labels spread. The Gay Cancer and Gay Related Immune Deficiency (GRID) circulated at this time – fuelling a renewed homophobia from conservative elements and even from within the community itself.
The leaflet covers all the usual suspects: warts, chlamydia, syphilis, the diseases that could be cured. Yet there was a new kid on the block, Kaposi Sarcoma (Ks). Ks is a form of cancer that reveals itself in red/purple lesions on the skin, in the mouth and lymph nodes. Usually defeated by our immune system, Ks is a cancer of the old and infirm. Yet this was appearing on young healthy men – a stigmatic sign of infection presenting itself on beautiful bodies. Somehow I can't help but feel here was the new leper. The new outcast. A reminder of the possibility you too could, at any time be disconnected from your sexual community, friends and family. It was a reminder of our fragility.
Set against this background we Sisters approached the issue with stoic pragmatism. Staying true to our mission of perpetual indulgence the message was not 'don't have sex' but have sex responsibly, kinkily, lovingly and with humour rather than guilt. This last point was particularly important, those seeking to denigrate sexual liberation felt emboldened by the arrival of this new disease to once again cry 'sinner' at the afflicted. It is a mission we Sisters engage with daily, to proclaim that sex is fabulous and to eradicate guilt.
Sister Judy lays her hands on another package
The other package was something of a mystery to me until this moment. I had another chocolate as I pulled out a thicker booklet created by the London Sisters. This was a postcard book titled Get the Rubber Habit – a charity work aimed at raising funds for safer sex provision. The dedication was by the wonderful Saint Derek Jarman.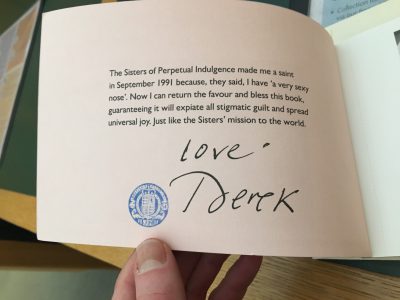 As I read Derek's words the message was the same as that of the San Francisco Sisters, guilt and shame are the biggest barriers we face to health and happiness. In that spirit then, here are a few choice shots of the London Sisters in their Prime: (p.s. It's OK to fancy a nun… these Sisters are hot).