JOE KING JOINS THE MANCHESTER SISTERS!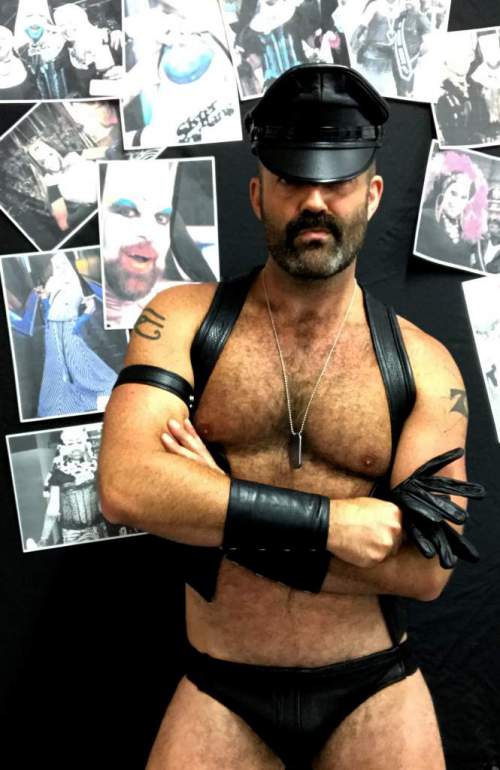 Joe King relaxing in his grotto, dedicated to his showbiz wife Sister BangBang. That's flour on his beard – he was just making some scones before this photo was taken.
Leatherman Joe King, husband to our dear tart Sister BangBang, will be joining the Manchester Sisters! Just for one day though, as he takes on the role of the Sister's Guard for the Manchester Pride Parade 2018.
We sat down with him and asked him a few pertinent questions, kicking off with who he is and where does he come from….
JK:
My names Joe and I'm from Yorkshire, UK.
Why are you so supportive of the Sisters of Perpetual Indulgence?
JK:
A lot of the Sisters are also fetish/kink people and promote the values of sexual expression and liberation so there's very much a natural synergy between the leather community and the Sisters. Personally, my M.O is to try to use my influence to make the world a better place and to try to support people wherever and whenever I can, The Sisters do incredible work for charity and people in need and most of the time it goes utterly unacknowledged by the wider community. I've seen first-hand how dedicated the Sisters are and just how hard they work. Not to mention that (almost) every one I've ever met has been an incredibly special and enchanting individual.
So I couldn't be prouder to be a supporter and advocate for them.
How has their work influenced your life?
JK:
Their work has made me more aware of some of the issues we all face as a community, and they have inspired me to embrace humour in my sexuality and to be more celebratory of all flavours people that make up our vast community of misfits.
And, I'll never look at a tea-towel the same way again…
You are married to Sister BangBang – how did you meet?

JK:
Well, I first met her in Manchester in 1979, I found her on all fours, ripped tights, vomiting in a gutter with an empty bottle of cooking sherry. I held her veil out of the way and when she was well enough I took her to the Palace and the stable boys hosed her down and made her a bed for the night. The next morning I woke up to find she'd made me a full English breakfast and polished all my leather chaps to a high-gleam shine. I knew then she was the queen for me.
What are the secrets to your successful marriage whilst in the glare of the publicity spot light?
JK:
Our showbiz marriage has lasted so long through careful avoidance of each other and our own booze cabinets – luckily the Palace has two wings, quite separate, where I can't hear her 'entertaining' and she can't complain about my cigar smoke and poppers staining her wardrobe.
Of course, I still love the old girl, even though she's a loud-mouthed gobshite.
How do you cope with the rumours about you having an affair with Sister Bearonce?
JK:
Sister Bearonce and I meet regularly to discuss this, We often drive out somewhere quiet or find an isolated Travelodge, away from the paps and prying eyes of the public. She's so accommodating and always knows exactly what to do to help me relax and deal with anything that comes up.
[Editors note: Wow – have you ever thought of becoming a politician?]
What will you be doing with the Manchester Sisters at Manchester Pride this year?
JK:
Well, I am really proud to be chaperoning the house as their guard and carrying their flag in my finest, tightest leather in celebration of them passing through their 21st Birthday.
Finally, what is "Joe's motto":
JK:
'Fuck the bitches, be good to each other, stand up for what's right, be kind.'

You can read more ramblings from Joe on his Facebook page here

Share this page
Facebook
Twitter