DIGGING DEEP INTO THE SISTERS
You have to admit, we do look fabulous! We know you want to know more though, don't you? Find out what makes each of us tick. The saints beneath the paint.
So, have a read of our mini-blogs here. In the not too distant future, all the Sisters will have a web page all to themselves, which they will fill with ramblings, thoughts, feelings and general chit chat.
(More updates coming around 2068 or thereabouts, knowing what Sisters are like to organise. Like juggling dust trying to sort them out, I can tell you…)
Full name:
Sister Martini Bianca Anytime Anyplace Anywhere
Unique Selling Point:
Knit extremely long scarves in rainbow colours to cope with the interminable boredom from your ramblings.
Superpower:
The ability to reduce everyone to little piles of dust with one venomous look. 'Martini the Medusa'.
Postulant start: 13th April 1442
Novice start: 1st January 1666
Black veiled: 28th October 1996
Full name:
Sister BangBang Ladesh
Unique Selling Point:
To not need a microphone as she's got a voice like a fog horn and face to match.
Superpower:
To spread glitter throughout the world by flying whilst keeping her legs wide open.
Postulant start: 11th November 2014
Novice start: 27th August 2015
Black veiled: 14th February 2016
Full name:
Sister Judy De Ryder
Unique Selling Point:
She's the vegan nun. She loves vegetables that much that she's banned from most major supermarkets. Ask about her egg and dairy free hollandaise sauce (she also does a foaming version)
Superpower:
The ability to make politicians answer questions honestly…or at all. This would reduce the amount of time we would have to listen to them. Think of the air time we could free up for Bake Off re-runs.
Postulant start: August 2016
Novice start: April 2017
Black veiled: March 2018
Full name:
Sister Roly Meover OnTheHaigh
Unique Selling Point:
The lazy cow still has written this yet. 
Full name:
 Sister Mona Key
Unique Selling Point:
She's very good at tying knots. Especially useful when the gathered faithful are trying to wiggle about too much
Superpower:
Teleportation. There are so many places she'd like to go but not enough time. If only she could just click her heels.
Postulant start: 3rd March 2018
Novice start: 25th August 2018
Black veiled: –
Full name:
Sister Bootrice Leatherbottom of the High Cuir
Someone once said that one has no sole nor a swing in their step, but one lands with a thud and press foot firm into the boot heel of a beckoning and a reckoning urge to give life, to give spirit and plenty of sole. One has skipped and rejoiced with many a community, of the queerest, of the bravest, of the daring and those who dare to be. One can be the artist, one can create and one can find their pathway to rejoice unconditionally in harmony. One can strap and pull oneself up in precarious garments, to practice expiating stigmatic guilt in order to enable rejoicing and the feeling of self-love. The sister has a gift for the arts, of the spoken word variety and use of the visual eye via some newfangled contraption modern-day folks call a camera.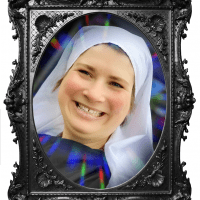 Full name:
Novice Sister Lavinda Tantrum
Unique Selling Point:
to come…
Superpower:
to come
Postulant start: 
Novice start: 
Black veiled: